Today's interview is with the very great and talented CIESAY. Most of you will know him as the guy who started Places + Faces, bringing you the best film shots of your
favourite icons and the coolest
hoodies
around. CIESAY's work has even been featured on
Vice
,
Mass Appeal
,
Life + Times
and many more. I found out about how the man himself goes about approaching his work, where it all started, Paris and shooting in film.
It was only last Summer you and your friend thought of the idea to start 'Places + Faces'. What is the concept behind it and where do you get your inspiration from?
"It wasn't really a concept; I didn't really have an idea for it. Literally I was bored in New York in my uncles kitchen and I had all these different pictures of rappers like Vinny Chase, A$AP Ferg, all these guys, and it was like where can I put these picture without looking all cliché and just putting it on instagram like 'hey look who I shot today' or 'hey look who I met today'. So I kept going into the BBC store (Billionaire Boys Club) and they had Pharrell's book spaces
and faces or something like that? So I think the name 'Places +Faces' just came out of me thinking of the book and just thinking of a blog or place I can put the pictures on, of going different places meeting different faces. And then I hit up my friend who was in London at the time, to cover stuff in London while I was in New York. It was a nice system, because I would send him a photo, he'd edit it, and because there's a 6 hour time difference, when I'd go to bed he'd have them edited, so we were quick and efficient."
You seem to travel the world often, where has your most enriching trip been?
"It has to be when I was in New York where I started 'Places+ Faces'. I always wanted to go back to New York again, but every year I'd put it off by saying 'I'm going to go this year', and when it came I would be like 'let me just stay in London and I'll just go next year'. And then randomly around January, an uncle hit me up on Facebook like 'hey, I'm your dad's cousin, whenever you come to New York you can stay with me' and then I felt like that was a sign to go New York; 2 months later I went New York for 3 months, and now we here."
You also travel back and forth to Paris allot. Would you consider there your second home?
"Most definitely. I feel like Paris is a cool place. When you think of London, everyone's kind of shooting in the same place and hanging out in the same areas, whereas in Paris they appreciate things more. We probably get an event here every week or every month, whereas they get it at certain times, so they'll have a day where everyone comes out and appreciates it because they don't know when they're going to get it again. And also I just like the culture. They have buildings from the 18th century. Inside is modernised but outside still looks like it's from back then so it's really cool. Like I've been to a Dominoes where they still use those board things to put the pizza in and all that. Also Paris is brown whereas everywhere else like London has this greyish tone. Paris has this nice brownish colour that's nice for shooting. Plus they got nice people out there."
So it's not true what people say about Parisian's being quite rude?
"Well I've met a couple rude people- not to name any names- but nah; I don't really talk to other people because I have friends there, so I just hang out with my friends. And I know my way around now so I don't really talk to random people. But there is allot of class situations. I feel like because of your ethnicity you can't be as high as another person, e.g. like black and white. Black people won't be as high as white people in Paris because of class. You can't be a successful guy who is black in Paris with a clothing line, without a white person being in charge or something, but that's just how i look at it in my opinion."
You met Kanye in Paris! What was that like?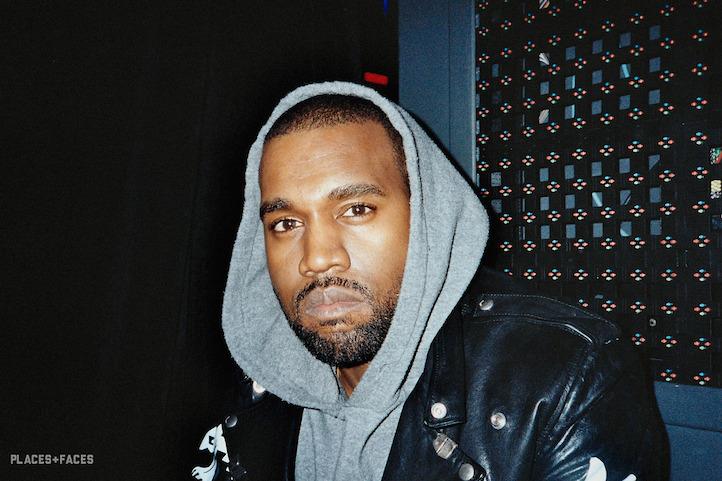 "Meeting Kanye in Paris, that was cool. It was like a strange thing because on new year's day/new year's eve I was like to myself 'okay I'm going to shoot Kanye and Pharrell', and literally 2 weeks later I met Kanye and I got to shoot him. So it was cool because I was going to this club and we saw a guy come in. And someone was like 'oh shit that's Kanye' and I was like 'oh shit wow', then he came out and I was like 'fuck I'm not gonna get to shoot him now, I missed my chance'. So we get in and
everyone's partying, and like an hour later we see everyone crowding around a table taking pictures. And then I peeped over and Kanye is just sitting there chilling. And then he kept going in some room and coming out, and I was thinking 'what's this guy doing?' And everyone kept following him. So I just thought 'man, that's a bit
too hype for me I ain't trying to follow this guy'. And then he disappeared for a while again and people didn't know where he went, but then he came back again
through a secret exit so everyone still thought he was in the other room, so when he came back he was kind of by himself. The dance floor was empty with just me and him sitting back where he was, So I just looked at him and was like 'yo Kanye', and then he looked at me and got up to shake my hand and called me to come sit next to him. And then yeah we just had a little two minute conversation about life, I didn't even tell him about what I do; we were just talking about his album and random things. And I was like 'before I go, can I get a picture of you' and he was like 'yeah sure' So I took a picture of him smiling and then I took another one, and his face switched so quick- like he was smiling and he was happy- then he had the meanest face you can think. But I think that's the Kanye face for paparazzi pictures. But I'm not paparazzi though."
Do you know if he acknowledged the photo?
"He probably saw it; it was like everyone stole that picture on the internet, that picture was like everywhere. He's probably seen it and I know people that work for him that have probably showed him the picture. I know he said one of my hoodies were dope to someone that was wearing it, so I know he's probably seen my stuff."
What other interesting people have you taken pictures of and was it daunting at times approaching them?
"I did Alexander Wang in New York but I don't think anyone really saw that one. I made it into
a gif. It was one of my first really rare pictures. A$AP Rocky was cool, I know his DJ. I don't think there's anyone who's been daunting. I think Kanye would have been the one where I was like 'oh shit is my picture going to come out right' because I took it in film, so I wasn't sure if it was going to come out right. I think after Kanye it was just like, I've done the top guy, so with everyone else even though they're all good, I wasn't really nervous because some of them I've already met or I'm use to their character, whereas Kanye you never know how he might react to that situation."
How do you go about approaching your subjects, e.g. finding models?
"I just get all my models from social media really. I don't really like going through agencies. I've never emailed an agency. But yeah just social media and emailing, basics."
How does using a film camera differ to DSLR camera's?
"Film has a more natural feel. With SLR's you can get flaws, like even though you get flaws with film, but with SLR's you can take a picture, and what you think is the real colour doesn't come out the same, and can make it lesser than what it is. With film, it's natural and it fits in with what I do because I like to take things in the moment. I never want to go to a studio and be like lets shoot here for 2 hours, I'd rather see someone walking on the road and just get them in their element to fit their mood and environment. When it's in a studio, it gets kind of boring and the artist is probably use to all of that stuff. And with film the person is less scared of it. I feel like with Kanye, if I took a big SLR, he'd probably feel like it's a paparazzi stunt, but with film it's less harmful and doesn't really affect you. Okay cool it can be online, but people appreciate it more because it's a film camera and they know you took time to develop the pictures. Everything's an art with film."
"That I can't tell you, I can't really tell you my secret. I have favourite camera(s)."
"I own 1 DSLR but I own like 4 cameras and only use 1. The others are for display to throw people off. They don't know the real one."
Did anyone inspire the 'Places + Faces' clothing collection?
"No not really. Originally I only made the hoodie just for me to wear. When I'm on stage I wanted people to see when they took pictures the hoodie would reflect, so they'd be like 'what's that? What is Places + Faces?' But as soon as I dropped it social media went crazy over it so I was kind of forced in a way to put it up for sale, which is cool. I like the fact that people around the world like my stuff and are hash-tagging it, so it makes a kind of culture of its own. But there were no inspirations for it, I just thought one day, I want to make a hoodie that reflects. It was suppose to be glow in the dark but I couldn't find a glow in the dark material, so 3M was like the next best thing."
What photographers inspire you?
"None. I inspire myself. I try my best not to look at other photographer's work. Not because it's a competition or anything like that, it's just that I don't want to feel like 'I need to take a picture like this' to fit in with what's in trend right now. When I started taken pictures I never knew anything about pictures. I use to hate photography because I thought I could never do it. And one day I just picked up a camera and started shooting and this is what happened. I met a guy in New York called Chi Modu who took all the iconic pictures of 2Pac and Biggie that you see on Google all the time, but he's like a dope guy. I just met him randomly in a bar and didn't even know who he was until he told me his work and his name. He's a cool guy. I'll check his website just to see his stuff but I wouldn't say there's anyone who I'd say 'oh shoot, this is the guy I want to be' because you can't really shoot like anyone else, you need to shoot for yourself, because you're shooting for what you believe in and what you think would work. If you're taking inspo off another guys technique, is it really you that's shooting or are you just imitating a person you want to shoot like?"
Follow the Places + Faces Movement:
CIESAY twitter
Places + Faces twitter
Places + Faces website
Places + Faces tumblr
Places + Faces Soundcloud